Addresses
The ability to easily and quickly retrieve the information you need at a moments notice can make the difference between a frustrating day at work or a smooth one.
Imagine looking up vitals for a client, such as height and weight, and then needing the managers email address, or the name of their pet, or doing a search for all the female actors between 20-25 with blond hair...all within just a couple of minutes or less. Then you will immediately realize the benefit of having inEntertainment as your main contact management system.
With the Addresses module you can take contact management to a whole new level.
Here are few of the many features:
Unlimited ways to categorize contacts
Unlimited number of mailing addresses, phones, email addresses and notes for each contact
Relate employees to their company
Relate clients to their representatives and significant others
View a complete history of activity for any contact including appointments, bookings, calls, events, projects, submissions and tracking
Create mail merge letters, faxes and emails
Dial directly through your phone system
Synchronize your contact information with your Blackberry or iPhone
Unlimited amount of notes
Vitals ranging from sizes to skills to identification information
Screenshots
Macintosh Screenshot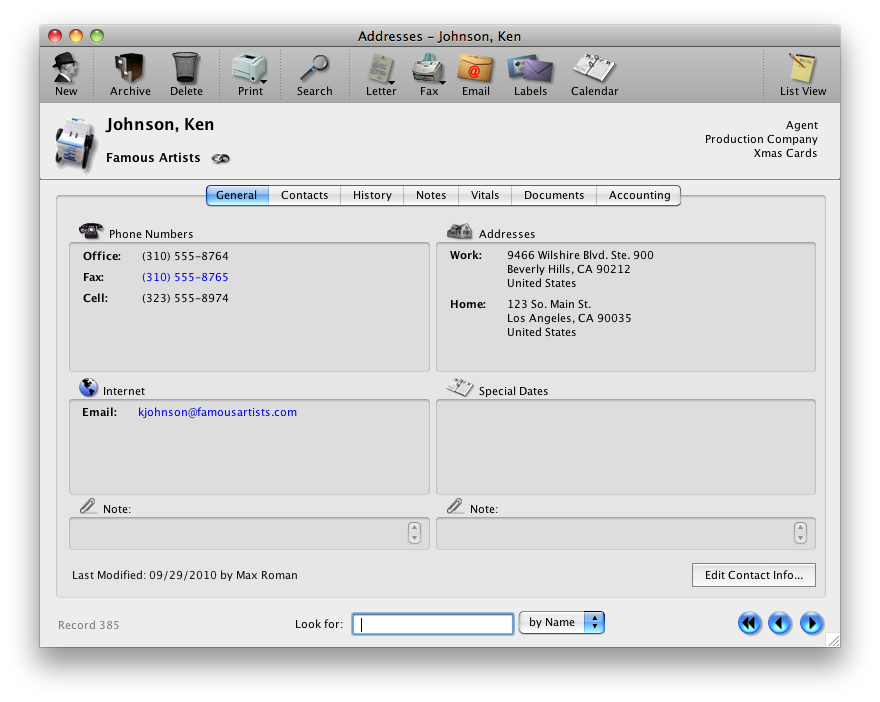 Windows Screenshot