Database Solutions: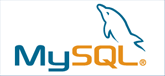 After much consideration MySQL was the right choice for the database engine for inEntertainment. MySQL is the world's most popular open source database because of its consistent fast performance, high reliability and ease of use. It is used on every continent by many of the world's largest and fastest-growing organizations for their business critical systems and packaged software.
Used by such industry leaders as Yahoo!, Google, YouTube, Facebook, MTV Networks, DirecTV, BBC, Apple, and Dell we feel confident that MySQL can handle all of our customers current needs and it's scalability and continued development will allow us to meet their needs far into the future, as well.
Migrating new customers from their pre-existing Filemaker databases to MySQL/inEntertainment has resulted in higher efficiency and lower cost of maintenance while simultaneously giving them new features that would have been prohibitively expense to implement before.
inEntertainment knows firsthand the needs and wants of the entertainment professional. Over 15 years of experience working with the Industry has gone into creating our unique user interface, something that won't be found in a custom Filemaker database.